Spanish Dual Language / Bilingue Español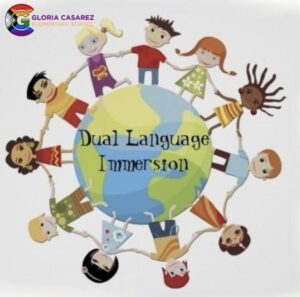 In January 2023, U.S. Education Secretary Miguel Cardona announced the U.S. Department of education's "Raise the Bar: Lead the World" initiative, emphasizing the need for schools to provide opportunities for students to learn multiple languages. Research shows that early exposure to multilingual programs positively impacts cognitive and social development.
Dual Language classes are composed of a balanced number of students in each class who are native Spanish speakers and native English speakers. Instruction is held in both languages by two teachers, who deliver the literacy and grade-level academic content standards in all subject areas. Students will also participate in specials, such as music, gym, art and digital literacy, which are only taught in English.
(Bilingue Español)
En Enero 2023, el Secretario de Educación de U.S, Miguel Cardona, anunció la iniciativa del Departamento de Educación " Raise the Bar: Lead the World" (Sube la Barra:Lidera el Mundo), enfatizando en la necesidad de las escuelas de proveer oportunidades para que los estudiantes aprendan múltiples  idiomas. Los estudios  muestran que la exposición a temprana edad a programas multiculturales impacta positivamente el desarrollo cognitivo y social.
Las clases Bilingües están compuestas de un número balanceado de estudiantes en cada salón cuya lengua nativa es el Español y cuya lengua nativa es el Inglés . La instrucción se lleva a cabo en los dos idiomas a cargo de dos maestras, que entregan los estándares de literatura y contenidos académicos en todas las materias. Los estudiantes también participarán en  clases especiales como música, gimnasia, arte y literatura digital, las cuales solo se enseñan en inglés.
Forms and DL Information for Schools / Formas e información para escuelas
Dual Language FAQs (Information Sheet)  Spanish Version
Guidelines for Enrollment      Spanish Version
Screener Process to identify the level of proficiency in Spanish – Link
Parent Commitment Form (paper version)
Parent Commitment Form (digital version)
Parent Acceptance Response Form
Dual Language Parent Interest Survey
Dual Language Intent Form (this form is school-based and is handed out to families upon enrollment)